A guide to the best food in Barcelona
Local gastronomy in Barcelona is as impressive as the architecture of the town's most iconic buildings, with historic tapas bars, colorful markets and inventive restaurants winning international recognition.
This guide provides an introduction to the best food to try in Barcelona and where to find it.



Best for tapas
Tapas abound in Barcelona, but
Bar Cañete in the Raval neighborhood has some of the best
. A favorite with tourists and local diners alike, this family-run bar dishes up classic tapas with a modern twist, to wash down with a glass of cava or a fine bottle of local wine from the extensive drink list. Specials include Galician baby scallops, Barcelona's bombas (spicy meatballs) and Malaga-style fried anchovies, while puddings feature Cuban chocolate sticks with salt and the special Cañete cheesecake.The best seat in the house is at the bar counter, where diners can watch cooks and barmen in action (they don't take reservations for the bar area, though).


Best for traditional Catalan cuisine
Nestled in a little street close to La Rambla,
Can Culleretes is Barcelona's oldest restaurant
and a true bastion of traditional cooking. Opened in 1786 and richly decorated with paintings and photos of illustrious patrons, this family-run restaurant is renowned for its tasty Catalan dishes exquisitely prepared using market-sourced produce. The tasting menus are a great way to try some of the restaurant's most celebrated dishes, while the a la carte menu include specialties like the fish and seafood stew in the style of Grandfather Sisco and the cava-stewed pig's trotters.


Best for market bites
No visit to Barcelona is complete without eating in one of the city's colorful markets. There are over 30 food markets in Barcelona, spread around the various neighborhoods and offering a true gastronomic experience. While the most famous is without a doubt
La Boqueria on the Ramblas
, a more authentic experience awaits travelers at the the Santa Caterina market, just a quick stroll away from the cathedral. A must visit here is Cuines Santa Caterina, a stylish dining spot serving Catalan delights with Asian twists. Another great place to visit is El Tast de Joan Noi at Mercat de la Llibertat in the Gràcia neighborhood: a little restaurant serving superb fish dishes, such as baby scallops au gratin and tuna cubes with soy sauce, sherry and walnut dressing.




Best for learning local gastronomy first hand
Barcelona's cooking-course scene is varied, with local businesses and restaurants offering classes where visitors can learn the basics of Spanish cuisine. BcnKitchen holds courses in Spanish and English, where participants learn to cook some of the country's most beloved dishes like paella, gazpacho and Spanish tortilla.
The Catalan Cuisine class
(4 hours, €70) is particularly popular and includes a visit to the local market.




Best for a Vermouth
Drinking Vermouth is a must on any trip to Barcelona. Much like tapas, this aromatized wine is very popular in Catalonia and having a glass before lunch has become a sort of ritual for locals, with an ever growing number of vermuterias opening throughout the city. The best is Casa Mariol, which serves the vermouth produced by the owners, but others establishments to consider are
Quimet & Quimet
, one of Barcelona's historic bars where vermouth is served with tasty tapas, and Bodega 1900 for a drink accompanied by the delicious bites of Michelin-starred chef Albert Adrià.



Best for Michelin-starred culinary marvels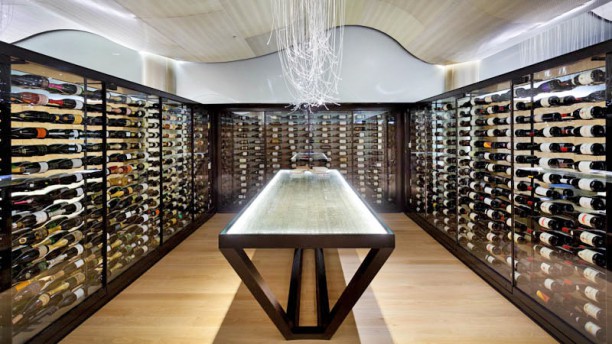 The star of Barcelona's gourmet scene is Lasarte, the only restaurant in town to boast three Michelin stars. Part of the Condes de Barcelona Hotel
, Lasarte is the reign of Chef Paolo Casagrande
, who runs the kitchen under the watchful eye of Basque chef Martín Berasategui, and prepares Catalan and Mediterranean dishes with a creative flair. Guests can choose between a la carte dishes, such as smoked squid ink risotto with lemon seafood and stuffed rabbit a la royale, and tasting menus that offer a gastronomic journey through the restaurant's top creations. There is also a Chef's Table just over the kitchen, with a special glass wall that allows guest to watch the chef and his team at work.



Best for dining with sea views
Being a coastal city with a beautiful stretch of sandy beach, Barcelona has a number of great restaurants for a meal by the sea. One not to miss while in town is
La Barraca
, offering a menu that comprises various rice dishes, including a delicious seafood paella, and Spanish classics like croquettes and cod fritters. Sunlight and sea views flood in through large windows and the atmosphere is cozy and laid-back. Unparalleled views are available also at the Blue Spot, a trendy dining spot located on the eighth floor of the Ocean building, offering a sunny terrace, a great cocktail lounge and a tasty seafood menu.




Best for brunch
Brunch has become a popular dining concept in Barcelona, especially on weekends, and it's an integral part of the city's food culture. Located near Plaça Catalunya,
La Esquina
is the perfect place for a quintessential brunch, offering anything from pancakes with bacon and maple syrup to Eggs Benedict and poached eggs with avocado. Drinks include various types of tea and coffee, fresh juices and cocktails. The friendly and cozy atmosphere is accented by English indie-folk tunes playing in the background. Another great spot is the Zinc Bar, in the Hotel Villa Emilia, where guests enjoy a sophisticated brunch that includes smoked salmon and Bloody Marys on a lovely roof terrace.



Best for a coffee break
When in need of a break from sightseeing,
Caelum is the perfect place to relax
. Set in the Gothic quarter, this is a cozy spot to linger over a good cup of coffee and the sweet treats specially made in monasteries and convents throughout Spain. The house specialties include a creamy custard called "bacon from heaven" and a the holy honey cake. Chocolate lovers should make a beeline for Xococake, where master baker Albert Badia Roca prepares exquisite chocolate cakes and bonbons. They even offer a fabulous selection of different chocolate-flavoured ice creams.