5 hotels you will like in Florence
Many cities don't offer immediately to the visitors their beauty, making it so hard. But Florence was born under a blessed gold star.
A traveller that spend a couple of day in town is rewarded with the 'vagabond happiness', as Stendhal said.
As it often happens, a city with hundreds of hotels is a city where is not easy to find the best ones.
Below my personal list:

Relais Santa Croce
Located in the historic centre, Baglioni Relais Santa Croce is a noble 18th century Palazzo, the only Relais & Châteaux charming property in Florence. Be enraptured by the enchantment of a truly extraordinary place surrounded by fine furnishings and frescoed ceilings. Stay in the largest Suite in Florence, the Santa Croce Royal Suite: 260 square meters of privacy and discreet intimacy, with a very elegant bathroom with Jacuzzi and Turkish bath.


Junior Suite, Relais Santa Croce
Grand Hotel Minerva
Set on a pretty pedestrianized piazza, minutes from the train station and within walking distance of Florence's main tourist attractions. the Views from the Grand Hotel Minerva are most likely what would spring to mind if asked to picture a postcard version of Florence.
Many of its 100 rooms enjoy excellent viewpoints, most of the Santa Maria Novella piazza, with rooms on higher floors that command Florence's skyline.
Renewed in 2017 with elegant and various interiors, some rooms feature canopy frescos and four-poster beds.
The Sky Lounge opens from May to September and features a rooftop swimming pool ideal for chilling after a day of culture in the Renaissance centre.
Fantastic breakfast, by the way!


Grand Hotel Minerva
Palazzo Castri
Only opened in 2014, this is a new gem in town, a sophisticated mix of the traditional and the modern.
The hotel interiors and exteriors seamlessly merge traditional and modern, elegance and comfort, to create a sophisticated ambience. The rooms offer sophisticated hospitality, and the designer interiors, magnificent view of the Cathedral of Santa Maria del Fiore, the fragrance of lemon and magnolia from the exclusive inner garden and smart modern spa are the perfect ingredients for an unforgettable escape from everyday life.
The hotel is strategically located just seven minutes' walk from the Cathedral of Santa Maria del Fiore and a short walk from the station and Piazza Santa Maria Novella.
Beautiful is La Limonaia, a fresh inner garden measuring 1,000 m2, offering a luxurious oasis with centuries-old palm trees and fragrant flowers. Here you can pause to relax and regenerate in an almost unreal silence.
Luxuriate in the hydromassage pool and have an aperitif with snacks we make ourselves and local produce at "La Limonaia" bar.


​

La limonaia garden, Palazzo Castri
Executive
Located in a quiet corner of the city, very close to the most famous St.Regis, the Executive is a small lovely house, a former residence of a noble family, now completely renovated maintaining the same ambience. Each room has original antique pieces and different tones in the matching bedspreads and draperies, tiled floors and fine wallpaper. With a Florentine accent, the exterior is easy to spot.



Hall Hotel Executive


Pierre
The Hotel Pierre is located in a fascinating Gothic style residence, in the splendid artistic and architectural context that has made Florence one of the world's capitals of culture.
It's interesting the balance between modernity and classic taste.
Rooms comfortable and full of charm, usually larger than average in town.
Just a short distance from the Duomo, Piazza Della Signoria and Ponte Vecchio are perfect for travellers that do want stay in the very heart of the town but prefer a quiet location, where you can still feel the real "magic of being local".


Hall Hotel Pierre



Palazzo Di Camugliano
Tucked away down a quiet street, just moments from the heart of Florence, a stay at the Palazzo di Camugliano offers a rare opportunity to be immersed in an indulgent world of antiquities and privilege.
Owned by a Florentine Marquis, Lorenzo Niccolini di Camugliano, the palazzo dates back to the 16th century and still features the original ceiling frescos, fireplaces, ornate stuccowork and magnificent parquet flooring.
Wifi and the in-room mini-bar are both complimentary, indicative of the very welcoming atmosphere. Here you are a house, not hotel, guest, an atmosphere reinforced by the team who are on hand with one-to-one attention.
In true aristocratic style, breakfast is served by waiters, at your table, either in the garden or in the magnificent dining room. Tea and coffee are available at other times and evenings kick off with prosecco and canapés.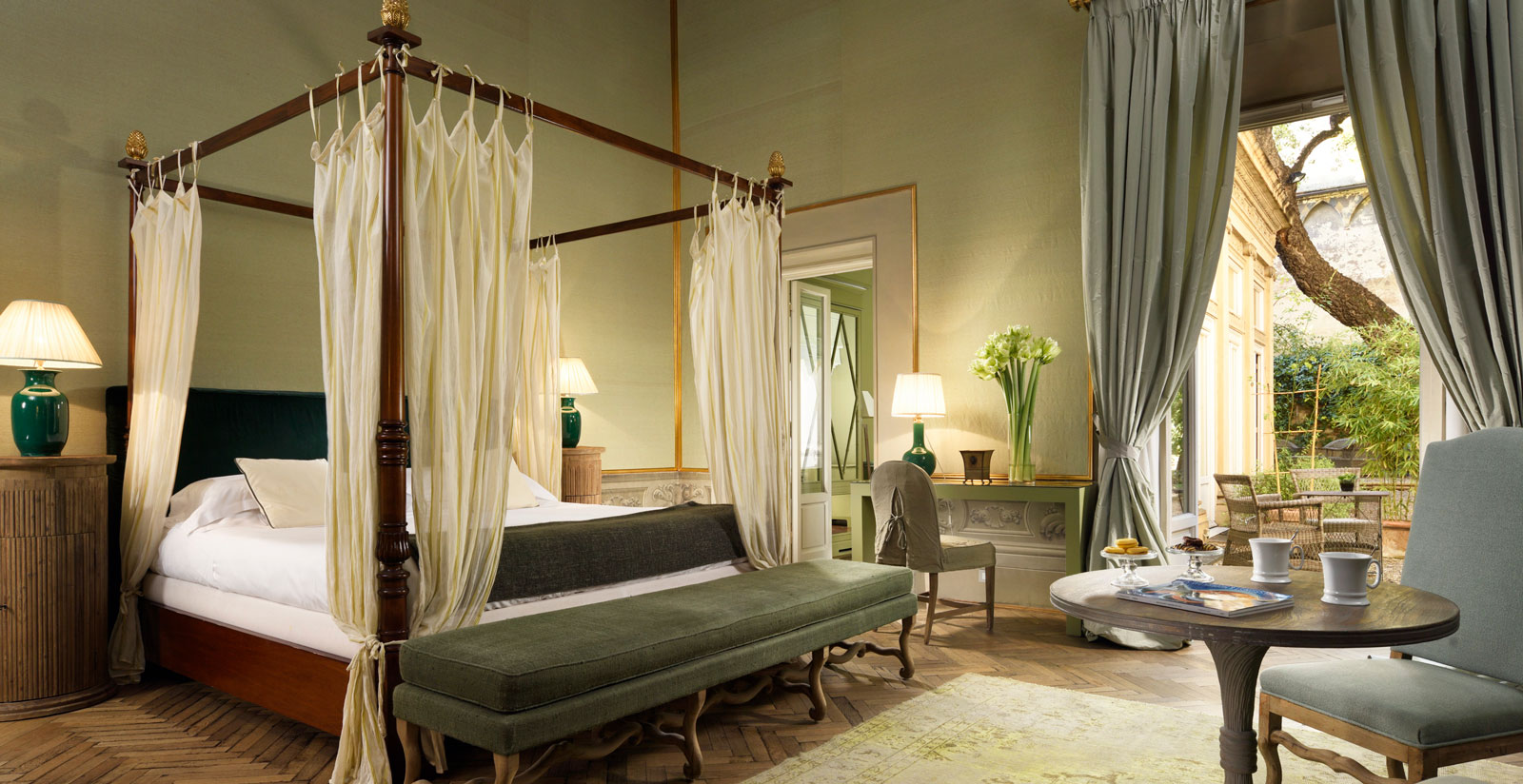 Palazzo Di Camugliano