The best restaurants in Rome
Eating in Rome is an absolute delight, but it is essential to know where to go. Here are our recommendations for some of the best restaurants in Rome, from Michelin-starred gourmet heavens to charming trattorias.


Armando al Pantheon
www.armandoalpantheon.it
It is a truth universally acknowledged, that restaurants close to big tourist magnets are often to be avoided. However, this rule doesn't apply to Armando al Pantheon. Located literally next to one of Rome's top attractions, this family-run trattoria is a bastion of traditional Roman cooking that charm visitors with its genuine, unpretentious atmosphere, warm service and mouth-watering dishes. The restaurant is very popular among local politicians, artists and tourists alike, and features a seasonal menu that includes Roman classics such as saltimbocca alla romana (veal with hame and sage cooked with wine), Roman-style tripe, spaghetti all'amatriciana (with tomatoes, pecorino romano cheese and bacon) or cacio e pepe (with pecorino romano cheese and black pepper).
Salita de' Crescenzi 31 I armandoalpantheon.it I Closed on Saturday evening and Sunday.


La Pergola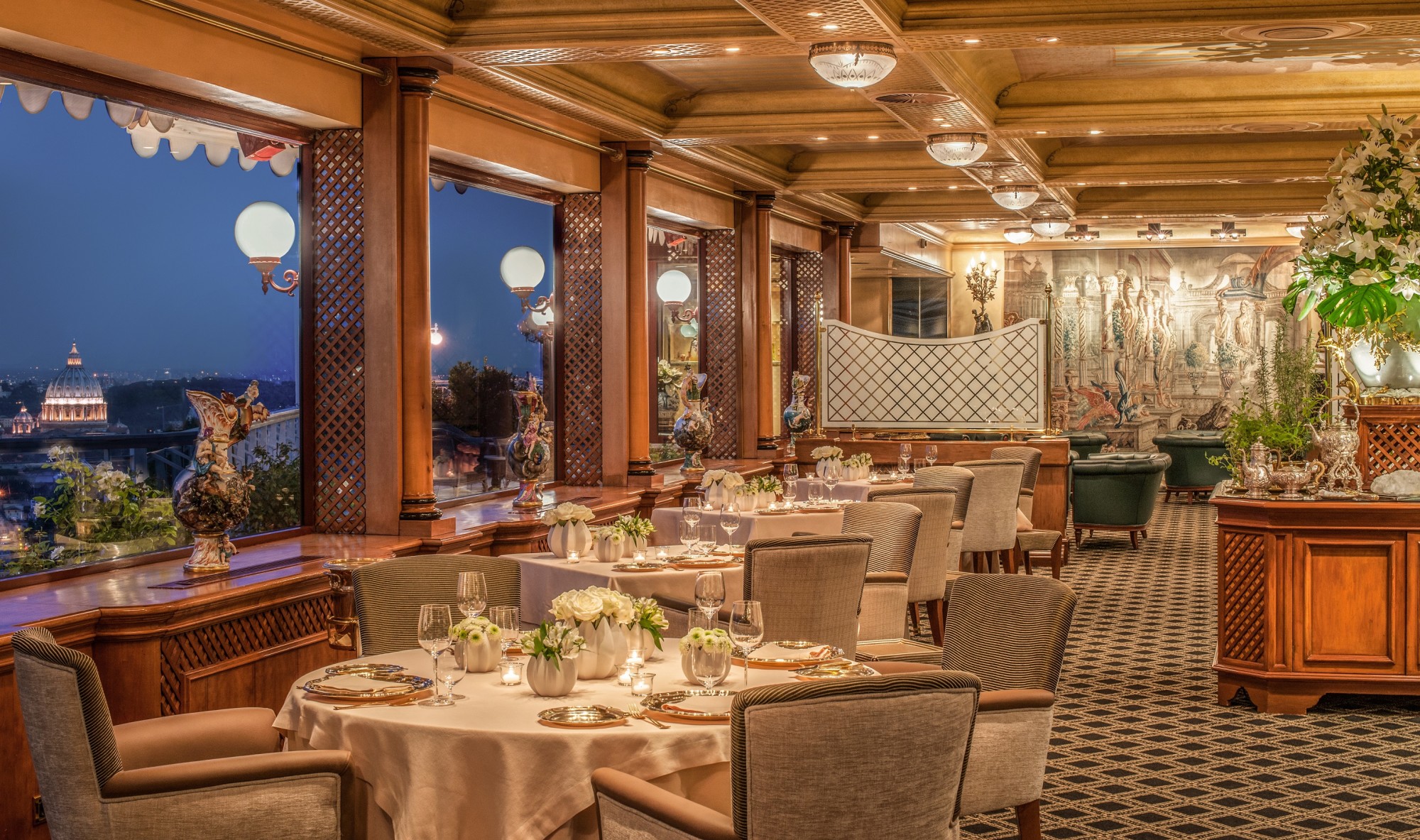 La Pergola - Hotel Rome Cavalieri
For a luxurious dinner in Rome, travellers needn't look any further than La Pergola, the 3-Michelin-star restaurant of German chef Heinz Beck. Occupying the top floor of the splendid Cavalieri Hotel, near the Vatican, this exclusive restaurant offers delectable dishes served with stunning views over the Roman skylight. A ten-course tasting menu costs €260, alternatively diners can choose a la carte, with highlights including deep-fried zucchini flowers with caviar, squid filled with pink shrimps and pumpkin risotto with veal sweetbreads and coffee. The cellar is stocked with refined wines and rare bottles and there is even a water menu. in the summer it is possible to dine on the enchanting terrace outside.
Via Alberto Cadlolo 101, Vatican I romecavalieri.com/la-pergola I Open for dinner only, closed on Sunday and Monday.




La Gatta Mangiona



La Gatta Mangiona
Pizza lovers should make a beeline to this fabulous pizzeria in Rome's picturesque Monteverde neighbourhood, near Trastevere. Opened in 1999 by high-school friends Cecilia, Giancarlo and Sergio, award-winning La Gatta Mangiona offers typical street food and gourmet pizzas prepared with a special mix of flours and longer rising times. Toppings include delicacies such as courgette flowers, Scottish salmon, anchovy fillets and spicy Calabrian salami, while sinful fried pleasures range from supplì (fried rice balls) to salted codfish fillets. The venue has a great atmosphere, helped by its welcoming staff and an extensive list of wines and beers.
Via Federico Ozanam 30, Monteverde I lagattamangiona.com I Open daily (evenings only).
Da Felice



feliceatestaccio.it
Da Felice has been serving traditional Roman cuisine in the heart of Testaccio since 1936. Locals call this place home, while tourists come here to feast on genuine Roman classics like penne all'arrabbiata, meatballs with tomato sauce, braised oxtail and chicory shoots in anchovy sauce. There are also daily specials. One of the restaurant's top dishes is cacio e pepe - a delicious plate of egg pasta, melted cheese and black pepper to pair with one of the wines from the well-stocked cellar. Interiors have been revamped by the founder's son Franco and offer a fancy backdrop to the meal, with exposed bricks, checkered flooring and crisp white tablecloths.
Via Mastro Giorgio 29, Testaccio I feliceatestaccio.it I Open daily.


Antico Arco




www.anticoarco.it
Antico Arco is a stylish restaurant in a beautiful setting atop the Gianicolo hill, near buzzing Trastevere. Guests are welcomed in a modern space decorated with dark flooring and white brick walls where warm hospitality and good food reign supreme. The Head Chef Fundim Gjepali serves up Italian fare with flair, transforming the freshest seasonal ingredients into thoughtfully crafted dishes. These include classics like homemade tortelli with Roman oxtail stew and risotto with castelmagno and Nebbiolo sauce, to wash down with one of the 1200 fine wines available at the restaurant. A delightful finger food menu is also available until 6pm.
Piazzale Aurelio 7, Trastevere I anticoarco.it I Open daily.


Roscioli



salumeriaroscioli.com
A family-owned business for four generations, Roscioli started as a simple grocery store and now is a gourmet food shop and restaurant offering both Roman classics and international products. There's a fabulous counter at the entrance full of tempting delights such as artisanal salamis and cheeses, while traditional Italian cooking finds its way onto the menu, from carbonara to meatballs, paying meticulous attention to the selection of raw materials. During the week Roscioli holds cooking classes that promise to demystify a host of local dishes and include also a wine tasting. What's more, the Roscioli brand include other three venues: Antico Forno Roscioli for pizza al taglio, Roscioli Cafè for cappuccino and pastry, and Rimessa Roscioli for wine tastings.
Via dei Giubbonari 21, Campo de' Fiori I salumeriaroscioli.com I Closed on Sunday.



Il Pagliaccio


www.ristoranteilpagliaccio.com
The only two-Michelin-starred venue in Rome, Il Pagliaccio is the restaurant of Anthony Genovese, the creative chef born in France from Italian parents, with a culinary career that spans from West to East. Dishes are innovative, with seasonal products featuring highly, and the restaurant offers a three-course tasting menu at €85 (available only at lunch), as well as an eight-course (€150) or ten-course (€155) menu. Interiors are elegant yet informal, with low lighting and vintage flooring, and reservations are essentials due to the limited seating available.
Via dei Banchi Vecchi 129a, Campo de' Fiori I ristoranteilpagliaccio.it I Closed on Sunday, Monday and Tuesday at lunch.

Metamorfosi
www.metamorfosiroma.it
Located in Rome's chic Parioli district, near the park of Villa Borghese, Metamorfosi is an exclusive Michelin-starred restaurant that promises guests a superb dining experience. The elegant interiors are decked out in a minimal style and combine wood, low lighting and neutral tones. The head chef is Colombian-born Roy Caceres, whose eclectic cooking style results in creative compositions like Carbonara Egg 65°, his personal interpretation of the classic pasta dish - and one of the restaurant's highlights! Guests can also try one of the two tasting menus, respectively with six courses (€110) and ten courses (€150).
Via Giovanni Antonelli 30, Parioli I metamorfosiroma.it I Closed at lunch on Saturday and all day on Sunday.



Pierluigi



www.pierluigi.it
Opened in the 1930's, Pierluigi is an upscale trattoria nestled on a delightful cobblestone street close to Piazza Navona. Its exquisite dishes have won hearts of both locals and international travellers for decades, including Barak Obama and Mark Zuckerburg. The menu is seasonal and focuses on fish and seafood, featuring inventive dishes like "soppressata" of wild octopus and paccheri with "seafood amatriciana" to accompany with one of the fine wines from the restaurant's cellar, stocked with over 1,500 labels. Pierluigi is also home to a splendid American-style cocktail bar serving a variety of classic and signature cocktails created by expert mixologists, including Sicilian Daiquiri and Spritz del Capo.
Piazza de' Ricci 144, Campo de' Fiori I pierluigi.it I Open daily for lunch and dinner.



Per Me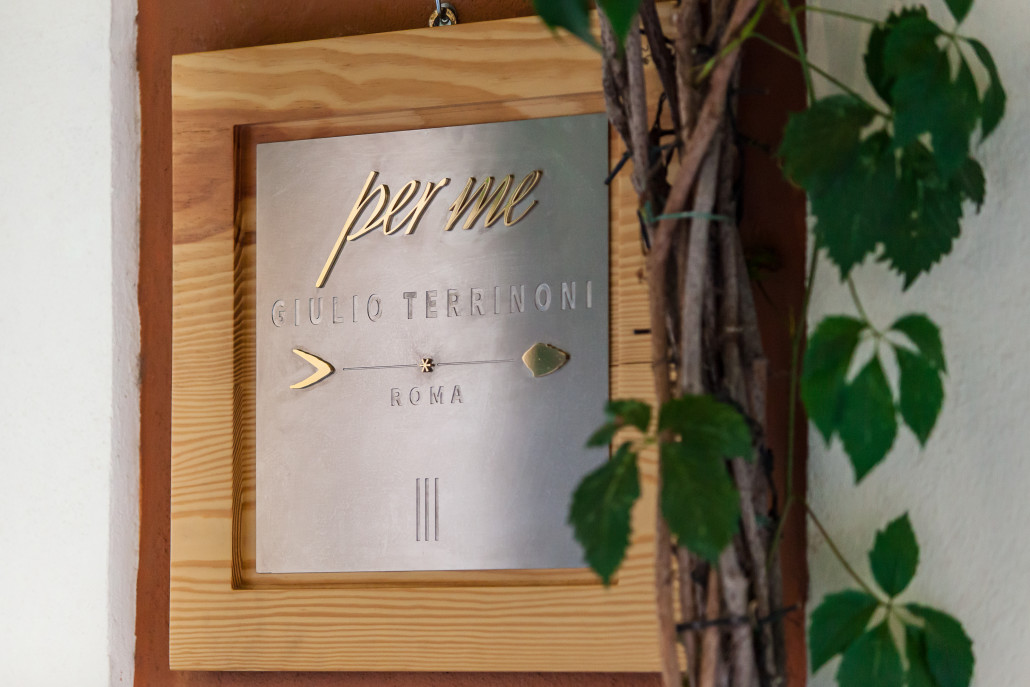 www.giulioterrinoni.it
Per Me is the restaurant of Michelin-starred chef Giulio Terrinoni, who is a member of the Jeunes Restaurateurs d'Europe association. In an admirable position in Rome's historic centre, the restaurant offers an intimate ambience and a seasonal menu where the sea takes centre stage. Diners can pick from a la carte menu that includes refined dishes like sea carbonara, cuttlefish tagliatelle and scampi carpaccio, or opt for a seasonal four-course tasting menu at €85, that can be paired with specially selected wines for an extra €55. Per Me holds courses at its kitchen, specially designed for aspiring young chefs, as well as wine classes led by the resident sommelier.
Vicolo del Malpasso 9, Campo de' Fiori I giulioterrinoni.it I Open daily for lunch and dinner.