Eight great restaurants in Mykonos and Santorini
Glamorous Mykonos ad Santorini have a thriving food scene, thanks to a number of outstanding dining spots where the islands' abundant fresh produce is masterfully blended with Mediterranean flavours and modern aromas to offer visitors a truly unique dining experience.
These are eight great restaurants to check out during a vacation in Mykonos and Santorini.
Interni, Mykonos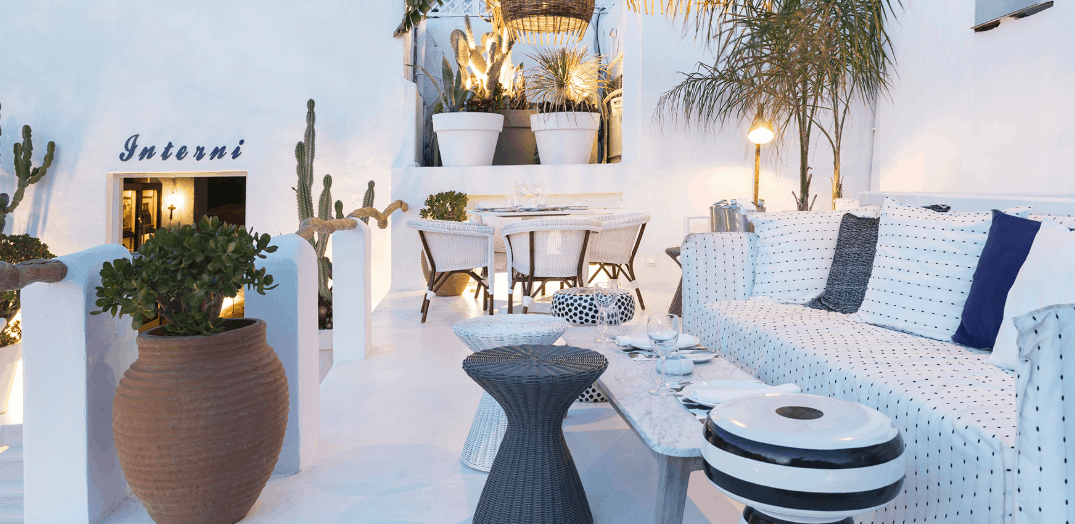 Interni is a
glamorous open-air restaurant
and bar hidden inside a courtyard in Mykonos town. The sleek, all-white décor is accented with potted plants and hues of blue here and there. The menu features traditional Mediterranean dishes that incorporate flavors from across the world, such as spicy king crab tagliolini with grilled papaya and the tuna fillet served with a cantonese sauce. The drink list is particularly intriguing, with a fine array of inventive cocktail options, such as the Dirty Dance, consisting of Tanquerray, olive brine, caper leaf and basil oil, and the Mykonos Breeze, made with vodka, green grapes, basil leaves, lime and soda.
Kiku, Mykonos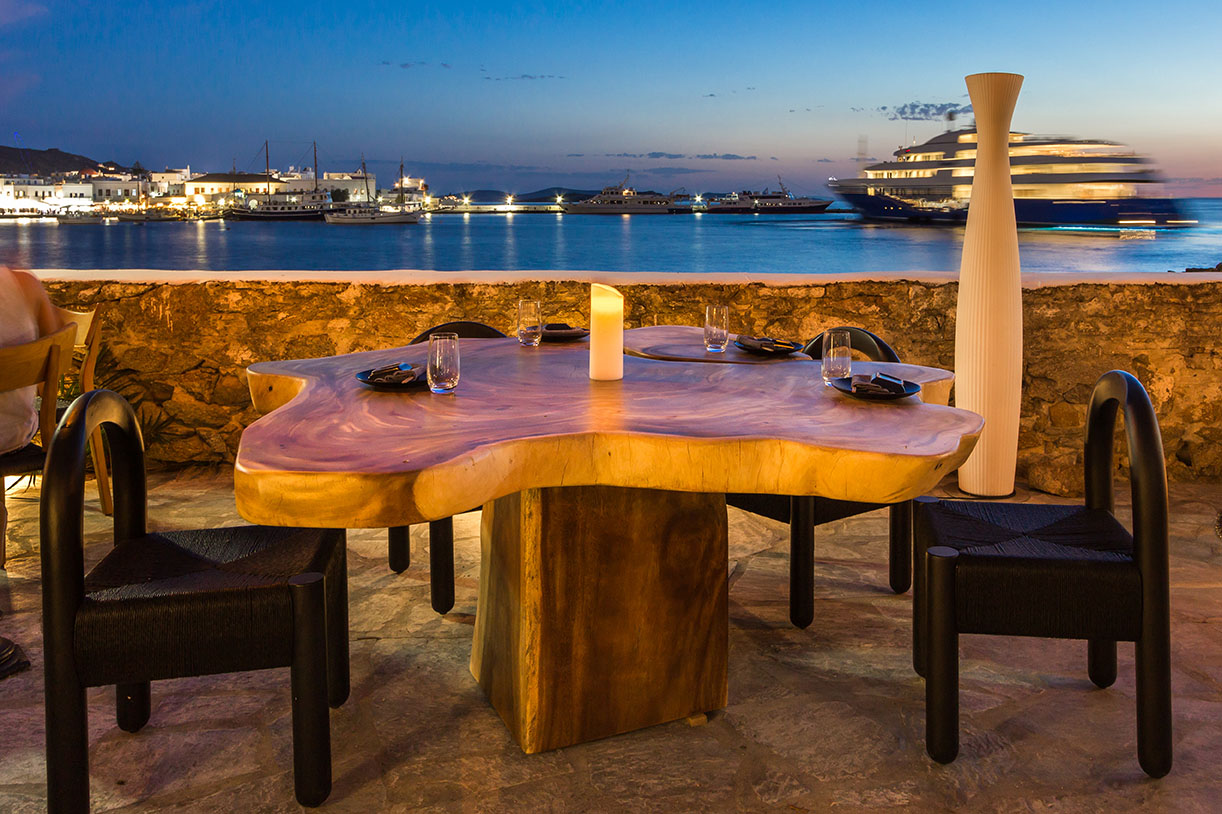 Kiku was
the first Japanese restaurant to bring sushi to Athens in 1993
and a few years ago it opened a branch on the island of Mykonos, precisely at the 4-star Leto Hotel. The sea-front setting is marvelous, with a chic mix of Japanese and Greek design and a trendy outdoor lounge with lots of greenery, arranged around a sparkling swimming pool. All the flavors of Japan find their way onto the restaurant's menu, with gourmet dishes such as marinated tuna nigiri with fresh truffle, Kobe beef and royal rolls with lobster tempura, caviar and gold leaves.
Jackie O', Mykonos
Jackie O' is a charming restaurant that has been attracting visitors looking for something out of the ordinary since 2013. Located on a cliff overlooking the Super Paradise Bay, Jackie O' is part of a beach club that comprises lounge areas, a bar, a swimming pool with jacuzzi, as well as a boutique shop, and is renowned for hosting epic parties and humorous drag shows. Boasting a relaxed and stylish atmosphere,
the restaurant is the reign of Greek celebrity chef Christoforos Peskias
, who serves up island fare with flair, mixing the best local ingredients with flavours from the East and the West. Some of his most iconic dishes include Cycladic carbonara with Mykonian louza, shrimps marinated in butter miso with parsnip purée and lobster bisque, and Mykonian cheese-cake with honey-caviar.
Spilia Seaside Restaurant, Mykonos
With
an unmatched location inside a cove by Kalafatis beach
, in the southern part of the island, Spilia is one of the top places to get a flavour of Mykonos island in a truly enchanting setting. Guests dine on a shaded natural platform right by the water, which turns into a particularly romantic spot at night, when the restaurant gets lit up with candles. Fresh fish takes centre stage on the menu (lobster pasta is one of the chef's recommendations), along with local delicacies such as fava spread with caramelized onions and capers, and the traditional Mykonian salad. Booking is highly recommended since this is - unsurprisingly - one of the island's most sought-after locations.
1800-Floga Restaurant, Santorini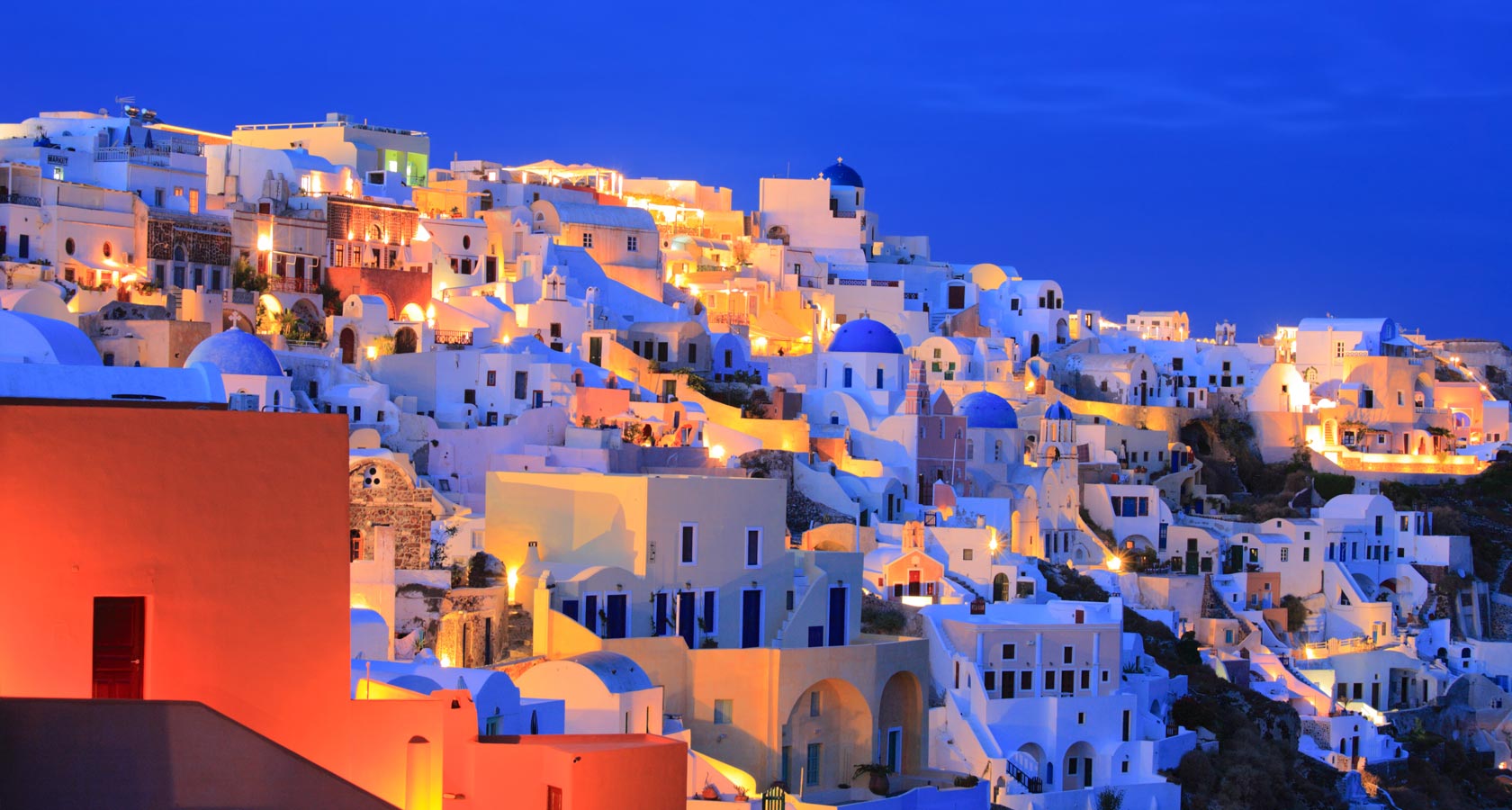 This restaurant is located inside a traditional sea captain's mansion dating from 1845, which was lovingly restored to maintain the original elements of the building, including antique sofas made of walnut wood and some beautifully carved curtain rails. The menu is a deep dive into the traditional cuisine of Greece, with a fresh, modern twist. Dishes are artfully presented and are accompanied by award-winning Greek wines.
The setting is truly enchanting
, high on a cliff in the village of Oia, offering unrivaled views of the sea, the caldera and the rest of the island.


Lauda, Santorini

Lauda first opened its doors in 1971 as Oia's first restaurant and the only place in the village with a telephone. Since then, it's become
one of the stars of Santorini's gastronomic scene
, offering a fine dining experience that celebrates the island's culinary tradition and honors the unique history of this place. Part of the luxurious Andronis Boutique Hotel, Lauda is helmed by Michelin-starred chef Emmanuel Renaut, who uses the best local ingredients to create amazing dishes like Mylokopi fish marinated with caper leaves and served with grilled white eggplant purée, Greek beef fillet with Santorinian- style Béarnaise sauce, and Greek Mont Blanc. The open-air terrace offers uninterrupted views of the caldera and a unique spot to enjoy the island's famous sunsets.
Selene, Santorini
Since 1986, Selene is
a fine-dining temple deeply rooted in the island's culinary tradition
. Located in the charming village of Pyrgos, near the precious vineyards of Santorini, Selene serves dishes that are both delicious and visually attractive. Specialities include pigeon with bergamot, piglet served with smoked roasted leek and red sweet pepper ketchup, and lamb with fried sweetbreads and lemon verbena sauce. The elegant indoor dining room opens onto an outdoor terrace that provides excellent views. On top of the restaurant, Selena has also a shop selling premium Greek delights and a no-frills taverna serving traditional food and wines that come exclusively from Santorini. What's more, it offers cooking lessons for those keen to learn more about local gastronomy.

To Psaraki, Santorini

To Psaraki is
one of the best spots to eat fish in Santorini
. It's a simple taverna perched high above Vlychada marina, on the southern side of the island, with a menu that delves into the roots of local culinary traditions, based on fresh produce and seasonal delicacies. It is particularly renowned for its ceviche and the homemade taramasalata spread, but not to miss are also the daily specials created with the catch of the day. The restaurant offers a wide range of fresh fish priced by weight, from sea bream to lobster and Mediterranean barracuda, and its drink list showcases a variety of local wines, ouzo and raki. Seating is limited under the delightful pale blue pergola on the other side of the street, so it's better to make a reservation in advance, especially for dinner.